MAX SERIES
Womens Summer Wetsuits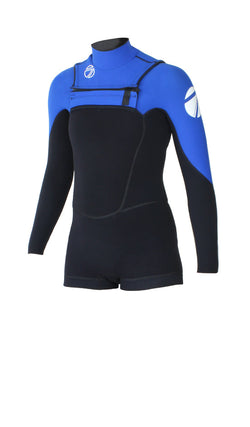 Seventhwave
Women's MAX 3/2mm Summer Chest Zip Long Sleeve Spring Wetsuit
The 3/2mm Max Capsule has the lightness and flexibility for performance with slightly thicker chest panels for extra warmth compared to the 2mm and 1.5mm. 

The Long Sleeve Spring is ideal for additional wind/sun protection but without the bulk of a full wetsuit.

⦁ Featuring one of the stretchiest rubbers on earth — 94% nitrogen-infused Yamamoto Limestone Superstretch 
⦁ 99.7% water impermeability, this wetsuit is Incredibly light in and out of the water, plus it dries incredibly fast 
⦁ Titanium lining reflects your body heat back to you meaning you can wear a lighter suit, but have the warmth to keep you out there even when the wind picks up
⦁ Chest Zip to help eliminate flushing 
⦁ Super flexible and ergonomically designed for Maximum comfort and performance  
⦁ Flat Locked seams - flexible, highly durable, breathable seam

⦁ Custom-fit option available - fitted to your 22 unique measurements for those that want nothing but the best!

A quality NZ made wetsuit, built from the best limestone neoprene in the world backed with our unique lifetime stitching warranty!
This wetsuit is the thinnest, Lightest, Warmest, best fitting wetsuit in the world.

Make the MAX truly yours with a fully custom fit and colours by going to our online custom shop.

Height (cm)
Weight (kg)
Bust (cm)
Waist (cm)
6
147-155
45-55
75-81
45-65
8
152-160
50-60
80-86
60-80
10S
(10 Short)
152-160
55-65
85-91
65-85
10
157-165
55-65
85-91
65-85
12S
(12 Short)
157-165
60-70
90-96
70-90
12
163-170
60-70
90-96
70-90
14S
(14 Short)
163-170
65-75
95-101
75-95
14
168-175
65-75
95-101
75-95
16S
(16 Short)
168-175
75-85
100-106
80-105
16
170-178
75-85
100-106
80-105
18S
(18 Short)
170-178
80-95
105-111
95-105
18
173-180
80-95
105-111
95-105
20S
(20 Short)
173-180
90-105
110-116
100-110
20
175-185
90-105
110-116
100-110
Height (ft)
Weight (lb)
Bust (in)
Waist (in)
6
4'10"-5'1"
99-121
30-32
18-26
8
5'0"-5'3"
110-132
31-34
24-31
10S
(10 Short)
5'0"-5'3"
121-143
33-36
26-33
10
5'2"-5'5"
121-143
33-36
26-33
12S
(12 Short)
5'2"-5'5"
110-154
35-38
28-35
12
5'4"-5'7"
110-154
35-38
28-35
14S
(14 Short)
5'4"-5'7"
143-165
37-40
30-37
14
5'6"-5'9"
143-165
37-40
30-37
16S
(16 Short)
5'6"-5'9"
165-187
39-42
31-41
16
5'7"-5'10"
165-187
39-42
31-41
18S
(18 Short)
5'7"-5'10"
176-209
41-44
37-41
18
5'8"-5'11"
176-209
41-44
37-41
20S
(20 Short)
5'8"-5'11"
193-231
43-46
39-43
20
5'9"-6'1"
193-231
43-46
39-43