VIPER SERIES
Mens Summer Wetsuit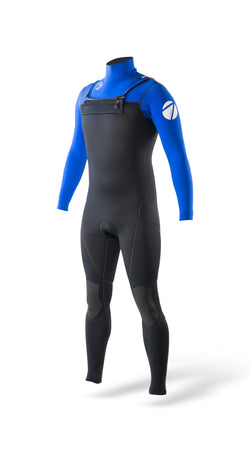 Seventhwave
Men's Viper 3/2mm Chest Zip Summer Full Wetsuit
The Viper features a combination of our superior Japanese neoprenes: Yamamoto Superstretch arms and upper torso giving you awesome flexibility where you need it, while the bottom half is constructed with our most durable and hard-working Dura-Stretch Yamamoto neoprene.

3mm body and 2mm arms/legs constructed with breathable Flatlocked seams which are perfect for spring, summer, and autumn waters.
Hard-wearing and fast-drying Yamamoto Limestone Neoprene
YKK Chest Zip for a more watertight seal
Armatek knee pads
Flatlocked Seams-flexible and incredibly durable
Custom-fit available to your 22 unique measurements
Quality NZ made wetsuit
Lifetime stitching warranty
Customizable with armatek elbow or bum pads, ankle zips, and pockets.(contact us for these options)
Designed for any kind of water sport, the Viper is a comfortable, hard-wearing, versatile wetsuit built to last.
Height (cm)
Weight (kg)
Chest (cm)
Waist (cm)
XS
157-166
45-60
80-88
74-78
S
162-171
55-70
86-94
76-84
M
167-176
65-80
92-100
82-90
ML (Medium Large)
167-176
70-85
98-106
88-96
MT
(Medium Tall)
172-181
70-85
92-100
82-90
L
172-181
75-90
98-106
88-96
LL
(Large Large)
172-181
85-95
104-112
94-102
LT
(Large Tall)
177-186
85-95
98-106
88-96
XL
177-186
85-100
104-112
94-102
2XL
179-189
90-115
110-118
100-108
3XL
185-192
95-120
116-124
106-114
Height (ft)

Weight (lb)

Chest (in)

Waist (in)
XS
5'2"-5'5"
99-132
31-35

29-31

S
5'4"-5'7"
121-154
34-37
30-33
M
5'6"-5'9"
143-176
36-39
32-35
ML (Medium Large)
5'6"-5'9"
154-187
39-42
35-38
MT
(Medium Tall)
5'8"-5'11"
154-187
36-39
32-35
L
5'8"-5'11"
165-198
39-42
35-38
LL
(Large Large)
5'8"-5'11"
187-209
41-44
37-40
LT
(Large Tall)
5'10"-6'1"
187-209
39-42
35-38
XL
5'10"-6'1"
187-220
41-44
37-40
2XL
5'11"-6'2"
198-253
43-46
39-43
3XL
6'1"-6'4"
209-264
46-49
42-45