SIREN SERIES
Womens Summer Wetsuits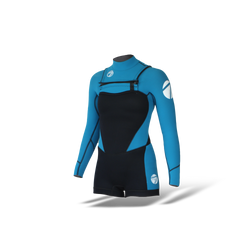 Seventhwave
Women's Siren 3/2mm Chest Zip Summer Long Sleeve Spring Suit
The NZ designed and made Siren 3/2 model features a combination of our superior Japanese neoprene: Yamamoto MR7000 superstretch in the arms, neck and shoulders giving you awesome flexibility where you need it. The bottom half is constructed with a mix of super stretch for comfort and fit alongside Yamamoto's hard-wearing dura-stretch material to ensure a long hard life in the water.

Specifically designed for a more functional fit, the Siren features a seam free underarm and a superstretch collar.
Chest Zip offers superb comfort with easy adjustment around the neck massively reducing cold flushes.

3mm body and 2mm arms/legs constructed with breathable flatlocked seams that are perfect for summer and autumn waters, or add more warmth by combining with a Titanium Hot Top.
A little less stretch than the max but the Siren will last the distance

⦁ Flat Locked UV coated Seams for comfort and durability.
⦁ Designed for comfort and a great fit.
⦁ Chest zip to keep flushing down to a minimum
⦁ Fast Drying Yamamoto Limestone neoprene
⦁ NZ designed and NZ made
⦁ Covered by our unique lifetime stitching warranty.
MATERIALS
Yamamoto Limestone Neoprene:

 

Yamamoto Neoprene

 

has a closed cell content of 94% — 23% higher than most competing neoprene materials — and with virtually no water absorption means the weight of this rubber remains nearly identical in wet or dry conditions, giving you more warmth than thicker wetsuits without the weight. It also dries more quickly than oil based neoprene wetsuits.
CUSTOM-FIT
Custom-Fit:

 

Approximately 1/3 people don't fit a standard size, yet a correctly fitted wetsuit insulates and protects the wearer from cold water, wind and abrasion. We can Custom-Fit a Siren to your unique size and shape, just choose > CUSTOM as your size and complete our

 

Custom-Fit form.
Height (cm)
Weight (kg)
Bust (cm)
Waist (cm)
6
147-155
45-55
75-81
45-65
8
152-160
50-60
80-86
60-80
10S
(10 Short)
152-160
55-65
85-91
65-85
10
157-165
55-65
85-91
65-85
12S
(12 Short)
157-165
60-70
90-96
70-90
12
163-170
60-70
90-96
70-90
14S
(14 Short)
163-170
65-75
95-101
75-95
14
168-175
65-75
95-101
75-95
16S
(16 Short)
168-175
75-85
100-106
80-105
16
170-178
75-85
100-106
80-105
18S
(18 Short)
170-178
80-95
105-111
95-105
18
173-180
80-95
105-111
95-105
20S
(20 Short)
173-180
90-105
110-116
100-110
20
175-185
90-105
110-116
100-110
Height (ft)
Weight (lb)
Bust (in)
Waist (in)
6
4'10"-5'1"
99-121
30-32
18-26
8
5'0"-5'3"
110-132
31-34
24-31
10S
(10 Short)
5'0"-5'3"
121-143
33-36
26-33
10
5'2"-5'5"
121-143
33-36
26-33
12S
(12 Short)
5'2"-5'5"
110-154
35-38
28-35
12
5'4"-5'7"
110-154
35-38
28-35
14S
(14 Short)
5'4"-5'7"
143-165
37-40
30-37
14
5'6"-5'9"
143-165
37-40
30-37
16S
(16 Short)
5'6"-5'9"
165-187
39-42
31-41
16
5'7"-5'10"
165-187
39-42
31-41
18S
(18 Short)
5'7"-5'10"
176-209
41-44
37-41
18
5'8"-5'11"
176-209
41-44
37-41
20S
(20 Short)
5'8"-5'11"
193-231
43-46
39-43
20
5'9"-6'1"
193-231
43-46
39-43