MAX SERIES
Mens Summer Wetsuit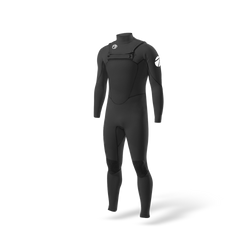 Seventhwave
Men's Summer MAX 3/2mm Chest Zip Summer Seam Full Wetsuit
The 3/2mm Max is the ultimate in lightness and flexibility for the highest performing and most comfortable wetsuit you will ever wear. 
94% nitrogen-infused Yamamoto Limestone Superstretch - SUPER flexible with a cell memory that retains the shape of your body.

99.7% water impermeability - Incredibly light in and out of the water, plus it dries ridiculously fast. This suit weighs a mere 800grams and due to low water absorption, is not much heavier when wet

Titanium Alloy Alpha

2.0 - The entire wetsuit is lined with this super thin heat retaining film that reflects your body heat and also keeps out the cold. Every time you move, paddle, or expel energy, your thermal heat is reflected back to you—increasing heat retention by an amazing 40%

Strong New Zealand made chest zip

to help eliminate flushing

Ergonomic Curved seam construction - minimal seams for more comfort, movement and performance  

Flat Locked seams

-  flexible, highly durable, breathable seam, coated for protection from UV light, protected by our lifetime stitching warranty

3MM Kevlar Knee Pads

-Durable, flexible and ergonomically designed to fit the bend and shape of the knee. 

Custom-fit option available - fitted to your 22 unique measurements for those that want nothing but the best!
A quality NZ-made wetsuit, built from the best limestone neoprene in the world backed with our unique lifetime stitching warranty!
This wetsuit is one of the thinnest, Lightest, Warmest, best-fitting wetsuits in the world. Designed to fit - Built to last
Height (cm)
Weight (kg)
Chest (cm)
Waist (cm)
XS
157-166
45-60
80-88
74-78
S
162-171
55-70
86-94
76-84
M
167-176
65-80
92-100
82-90
ML (Medium Large)
167-176
70-85
98-106
88-96
MT
(Medium Tall)
172-181
70-85
92-100
82-90
L
172-181
75-90
98-106
88-96
LL
(Large Large)
172-181
85-95
104-112
94-102
LT
(Large Tall)
177-186
85-95
98-106
88-96
XL
177-186
85-100
104-112
94-102
2XL
179-189
90-115
110-118
100-108
3XL
185-192
95-120
116-124
106-114
Height (ft)

Weight (lb)

Chest (in)

Waist (in)
XS
5'2"-5'5"
99-132
31-35

29-31

S
5'4"-5'7"
121-154
34-37
30-33
M
5'6"-5'9"
143-176
36-39
32-35
ML (Medium Large)
5'6"-5'9"
154-187
39-42
35-38
MT
(Medium Tall)
5'8"-5'11"
154-187
36-39
32-35
L
5'8"-5'11"
165-198
39-42
35-38
LL
(Large Large)
5'8"-5'11"
187-209
41-44
37-40
LT
(Large Tall)
5'10"-6'1"
187-209
39-42
35-38
XL
5'10"-6'1"
187-220
41-44
37-40
2XL
5'11"-6'2"
198-253
43-46
39-43
3XL
6'1"-6'4"
209-264
46-49
42-45