ENDURO SERIES
Womens Winter Wetsuit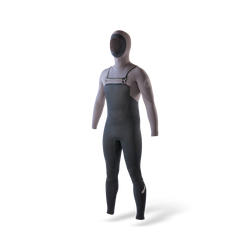 Seventhwave
Women's Enduro XT 4/3mm Interchangeable Winter Wetsuit
Our NZ made 4/3 XT Enduro winter wetsuit features a combination of our superior Japanese Limestone neoprene's: Yamamoto MR7000 Super stretch material through the arms and shoulders to give you awesome flexibility.
The Enduro XT Interchangeable offers the best of both worlds. You are not restricted to a permanent hood, but once the depths of winter hit you simply take off your standard chest zip attachment and zip on the hood attachment. 

The torso panels are constructed from our plush zirconium over a titanium lining, providing exceptional warmth. If you are looking for durability and warmth this is your go to wetsuit. A little less stretch than the max but the Enduro will last the distance.

The Zirconium fibre yarn has the ability to reflect infrared light transmitted from your skin back onto the body, creating double the warmth between skin and the fabric.
As a result, this combination feels dry when submerged in water.

⦁ Fully glued, fully taped on the inside and blind stitched on the outside.
⦁ Minimal seam design and placement for comfort and a great fit.
⦁ Fully titanium lined to reflect your body heat and keep out the cold. Every time you move, paddle, or expel energy, your thermal heat is reflected back to you.
⦁ Fast Drying Yamamoto Limestone neoprene
⦁ NZ designed and NZ made
⦁ Covered by our unique lifetime stitching warranty.
Height (cm)
Weight (kg)
Chest (cm)
Waist (cm)
XS
157-166
45-60
80-88
74-78
S
162-171
55-70
86-94
76-84
M
167-176
65-80
92-100
82-90
ML (Medium Large)
167-176
70-85
98-106
88-96
MT
(Medium Tall)
172-181
70-85
92-100
82-90
L
172-181
75-90
98-106
88-96
LL
(Large Large)
172-181
85-95
104-112
94-102
LT
(Large Tall)
177-186
85-95
98-106
88-96
XL
177-186
85-100
104-112
94-102
2XL
179-189
90-115
110-118
100-108
3XL
185-192
95-120
116-124
106-114
Height (ft)

Weight (lb)

Chest (in)

Waist (in)
XS
5'2"-5'5"
99-132
31-35

29-31

S
5'4"-5'7"
121-154
34-37
30-33
M
5'6"-5'9"
143-176
36-39
32-35
ML (Medium Large)
5'6"-5'9"
154-187
39-42
35-38
MT
(Medium Tall)
5'8"-5'11"
154-187
36-39
32-35
L
5'8"-5'11"
165-198
39-42
35-38
LL
(Large Large)
5'8"-5'11"
187-209
41-44
37-40
LT
(Large Tall)
5'10"-6'1"
187-209
39-42
35-38
XL
5'10"-6'1"
187-220
41-44
37-40
2XL
5'11"-6'2"
198-253
43-46
39-43
3XL
6'1"-6'4"
209-264
46-49
42-45